Nominations and
General Membership Meeting
At 12:30pm on October 20th, Local 660 members are invited to meet at 335 Arbor Way in State College to present nominations for Officers' and Executive Board Member positions.

Two Board Member seats and the offices of Secretary and Treasurer are open to nominations for three-year terms, and the positions of President and Vice-President are open to nominations for one-year terms.
---
General Membership Meeting
Local 660 next general Membership Meeting is scheduled for 4:00 pm on August 19, at the Boal Mansion Museum grounds. Business will include discussion of Per Capita dues increase, and Secretary John Thompson's participation as a delegate to the 99th Convention of thr AFM.

Following the metting at 5 pm, there will be a potluck dinner and a jam session, to which the public is invited.
---
AFM 660 to Celebrate 100 Years
The Central Pennsylvania Musicians' Association (American Federation of Musicians Local 660), headquartered in State College, PA, will celebrate its 100th anniversary on January 19, 2013. A luncheon will be held at the University Club, 331 West College Ave., from 12 to 3 PM, including live music and a recognition ceremony. Memorabilia from the union's history will be on display.

To mark the anniversary, the local is encouraging new memberships by waiving the initiation fees through March of 2013. New members or returning members who join by December 31 may attend and bring a guest to the celebration on January 19. "This is a seventy-five-dollar savings," says Debbie Trudeau, AFM 660 treasurer and violinist with several local classical ensembles. "It's a great opportunity for those who have been thinking of getting involved or rejoining."

"I believe in music," says Marilyn Haugh, avid supporter of several Central PA musical groups and AFM member since 2007. "I'm looking forward to celebrating the local's anniversary in January. I'm dedicated to musicians and feel that they should be paid well." Marilyn has been a close observer of Local 660 as the wife of the late Hubert Haugh, a member and officer from 1976-2007. She also served on the board in her husband's stead.

About the Central PA Musicians Association
According to John Kovalchik, an officer since the 1970s, "We represent many hard-working, qualified, and talented members who are working diligently to improve the local music scene. Our local leaders work for the good of the membership, to keep them performing for decent wages."

One notable recent AFM Local 660 initiative addressed the issue of musician pay by recognizing and promoting "Fair Trade" venues that pay a sustainable living wage to all performing musicians on site. Music at McCann, Music at Penn's Woods, the Saloon, Bar Bleu, the Autoport, and the Central Pennsylvania Ballroom Dance Association are among the local organizations recognized.

The Central PA Musicians' Association also sponsors the Olin Butt memorial scholarship, which donates five scholarships annually to fund private lessons for recommended high school students in Centre County. "We need to get more young people interested in music," says Haugh. "The AFM provides a vision and a purpose for them."

AFM 660's current active roster includes 69 musicians ranging in age from 21 to 92 and playing all styles of music, from classical and folk to rock and jazz. Its territory spans Centre, Huntingdon, Mifflin, Juniata, Snyder, Montour, Northumberland, and Columbia counties. Originally headquartered in Tyrone, PA, Local 660 relocated to State College in the early 1970s. Records dating to the 1960s list 389 former members, although hundreds more once belonged during the union's early years.

In addition to the initiatives mentioned above, the AFM also provides legal support for musicians under contract, and marketing assistance for members through this website, www.afm660.org.
---
Members Select New Executive Board Member
Andre LaVelle was nominated to the Executive Board position formerly held by Eli Byrne, who declined to be nominated for another term. Since he was unopposed, LaVelle will assume his three-year term beginning January 1, 2013.

Chris Lee and Phil Jensen each retained their respective positions as President and Vice-president of the Central Pennsylvania Musicians Association for 2013, as they were also unopposed after being nominated at the October 21st meeting.
---
Central Pennsylvania Musicians Association
Awards Scholarships to Student Musicians at Five School Districts
(State College, PA) – The Central Pennsylvania Musicians Association presented a new award and scholarship grant to student musicians at five Centre County school districts at the recent Centre County Band and Chorus Festival.

Before a packed audience in the Philipsburg-Osceola High School auditorium on April 13, Association President Christopher Lee and Scholarship Chairman John Kovalchik presented each student with the Olin F. Butt Music Achievement Grant of one hundred dollars each toward their personal music instruction.

"Our goal is to make central Pennsylvania a destination for music audiences and this is one way to have high quality music locally," said Lee, adding, "We appreciate the music teachers in the five school districts bringing these gifted aspiring musicians to our attention. Teachers play an important role in supporting the future of music in Centre County."

The late Olin Butt was a renowned music teacher and band leader and, as owner of the Music Mart in Bellefonte and State College, provided musical instruments and supplies to hundreds and thousands of student musicians from 1948 to 1975.

The five Centre County school district awardees were: Zach Spaw from Bellefonte, Emily Kizina from Philipsburg-Osceola, Jonathan Permi from State College, Megan Duck from Penns Valley, and Matthew Blaylock from Bald Eagle Area.
---
Local 660 Turns 100 Years Old in 2013!
We will have our General Membership Meeting
Celebrating 100 years
at The University Club of State College
More details to follow...
---
New Executive Board Member for 2012
AFM Local 660 welcomes Stacy Tibbetts aboard as our newest Board member. Stacy took over the seat vacated by long-time 660 activist Andrew Jackson.
Tibbetts was nominated for the open Board position at a meeting held October 30, along with Don Keat, Christopher Lee and Phil Jensen. Lee and Jensen were nominated for the positions they currently hold as President and Vice-President, as was Don Keat for his current seat on the Executive Board.
Since there were no other nominations, so all nominees were unopposed. Therefore, in accordance with Federation bylaws, no formal election was required, and all nominees will took office on January 1, 2012.
The President and Vice-President terms of office go for one year each, the board positions are held for three years.
---
Central PA Musicians Association Awards
Olin Butt Scholarships to Students
(State College, PA) – The Central Pennsylvania Musicians Association presented a new round of scholarship grants to student musicians at five Centre County school districts at the recent Centre County Music Educators Association County Band and Choir Festival.

Before a packed audience in the State College High School North auditorium on February 18th, Central Pennsylvania Musicians Association President Christopher Lee and Scholarship chairman John R. Kovalchik presented each student with the Olin F. Butt Music Achievement Grant of one hundred dollars each toward their personal music instruction.

"We are pleased to support music in schools," said Kovalchik. "In these days of tight budgets, we are in danger of losing these programs that help make a well rounded student in so many ways."

The late Olin Butt was a renowned music teacher and band leader and, as owner of the Music Mart in Bellefonte and State College, provided musical instruments and supplies to hundreds and thousands of student musicians from 1948 to 1975.

The five Centre County school district awardees and their music instructor nominators were: Cassie Lewis of Philipsburg-Osceola, nominated by Diana Krause and Valerie Stiner; Susanna Mills of Penns Valley, nominated by Paul Leskowicz and Phil Stattel; Katie Pletcher of Bellefonte, nominated by Meredith LeRoy and John Zimmerman; Ann Hackman of the State College, nominated by Amy Myers, Molly McAninch and Kim Lenaway; and Mackenzie Basalla of Bald Eagle Area, nominated by music teachers Kellie Long and Eric Brinser.
---
A message from the President Union Here to Help Everyone
What a creative bunch the musicians are in our union (American Federation of Musicians Local 660) and the mob they hang with --not just musically, but in general!
Take a moment to consider the array of initiatives AFM660 musicians have created to make StateCollege something really weird --a high quality music destination: From "sustainable music venues"to "flash mobs,"AFM660 is working to improve the music scene for all musicians, not just members, and for clubs and audiences, too.
Sustainable Music Venues – AFM 660 has certified bars and venues that pay musicians enoughto stay around and that give them written contracts so there aren't any late night arguments. You'll find a range of venues so certified by AFM 660, from the Autoport Lounge throughPenn State's Music at Penn's Woods series and many venues in between. Patronize them, because they care about music and musicians in town! See the full list on the web site at afm660.org.
"Listen to the Music"parties - at local bars filling the need of musicians to meet and play with other musicians and to expand their song lists.
Flash mobs! - Yes, once a month we designate a band and a venue and assemble there at a certain time and do crazy things. I guess it's a return to the old days, when union members were mobsters!
"More music, less alcohol, please!" - The music union has an important role in the present broader community effort to de-emphasize State College as a drinking destination –re-emphasize it as a music destination! Alcohol sales have huge external costs including police, hospital and property damage. Bars should either pitch in to fund these costs or redirect their focus from alcohol sales to the sale of high quality music which attracts people willing to pay a cover charge that will make everyone money without relying so much on alcohol sales and the related damages.
"Keep State College Weird" - A "musician's night off" party for everyone in the music scene including musicians and the people they work with and around (like bartenders), on the last Monday in August. Difficult to explain what this is about, but it's a blast! OK, so maybe it should be "To Get State College Weird." That's if State College isn't nearly weird enough already for you.
In summary: AFM 660 is making the music scene better for everybody, successful unaligned musicians included. We want to raise the level of pay and play for the sake of both musicians and audiences. We expect the musicians who now are the top of the local scene to stay there, but they and everyone else will be paid better and there will be less damage and more pleasure for audiences and the community that hosts them.
If you like this idea, by all means support AFM 660 by joining as a musician (easily done by going to afm660.org), or if you're not a musician, by supporting us in any other way you can think of, making you one of the creative ones!
---
Leadership Change for AFM
Ray Hair is new AFM President; Big Turnover in IEB
At the 98th Convention of the American Federation of Musicians, delegates elected an almost entirely new administration, ousting President Tom Lee and Vice-President Harold Bradley in favor of new President Ray Hair and Vice-President Bruce Fife.

Hair is a 21-year member of the International Executive Board, and has been President of Local 72-147 in Dallas TX, since 1983. As a drummer, he has played countless freelance, recording, club, and traveling gigs; he's also been an instructor at North Texas State University. As President of the Dallas-Ft. Worth local, he negotiates the contracts for 14 area symphony orchestras and other employers of musicians throughout north Texas and southern Oklahoma.

Also elected were Bruce Fife, President of Local 99, Portland, OR, as Vice-President. In addition to overseeing contracts for several Oregon orchestras, Fife also helped institute a program similar to Local 660's Sustainable Music Venue called Fair Trade Music.

Sam Folio retained his position as International Secretary-Treasurer, as did Bill Skolnik as Vice-President from Canada. Joe Parente is the only remaining member of the International Executive Board.

New to the IEB are Vince Trombetta (Local 47), Tino Gagliardi (Local 802), Dave Pomeroy (Local 257), and Tina Morrison (Local 105). More information about the Convention can be found in July's edition of our newsletter.
---
A message from the President
"We must all hang together, or we will all hang separately."
-- Benjamin Franklin as he signed the Declaration of Independence in 1776.
A Declaration of Independence for Central Pennsylvania Musicians
Musicians in central Pennsylvania struggle to find places to play and even when they find a venue, they are often abused and poorly paid and their music suffers.
Must this be the character of our local music scene? Elsewhere, musicians unite to improve their working conditions. One group that is uniting musicians here to improve working conditions is American Federation of Musicians Local 660.
In the past, unions were known for identifying enemies and fighting them, but AFM 660 identifies friendly venues and partners with them to grow audiences. This is the reason for AFM 660's new Sustainable Music Venue program.
In the last couple of years, AFM 660 wrote a Code of Ethics and surveyed musicians about their interests and needs. The two greatest improvements to help local musicians playing in bars are: 1) a living minimum wage and 2) written contracts.
Now a dozen bars and other venues have agreed with AFM 660 to pay all musicians at least the minimum wage identified in the AFM 660 survey and posted at afm660.org. These bars also have agreed to offer written contracts to all musicians. They prefer written contracts.
This minimum wage is the minimum, not the average market rate. The Union's actions prevent bars from dropping their rates below the minimum. Written contracts serve to prevent sudden cancellations, a common occurrence today.
It is an essential role for AFM 660 to fill the crying need for improving the relationship between bars and musicians. Look for the AFM 660 Sustainable Music Venue certificate posted where you play or visit. These bars are where you can expect a decent wage and a written contract. They are good places to work. Let us know if you find otherwise and we'll effect a change.
All musicians benefit from these AFM 660 efforts. Now is the time for unattached musicians to join AFM 660 and for undesignated bars to become Sustainable Music Venues. Together, we can be part of the evolving story of working together to improve the local music scene. Your audiences will thank you for this.
---
OFFICERS for 2010 DETERMINED

Lee and Jensen retain positions through 2010
On September 27, AFM Local 660 held its annual Nomination Meeting at 1 p.m. at Cafe 210 West, located at 210 West College Ave, State College PA. This meeting was mmediately followed at 1:10 p.m. by a General Membership Meeting. (Minuted from the General Membership Meeting can be read in the November newsletter).

At the 1 pm meeting, nominations were accepted for President, Vice-President, and two at-large Board Member seats. Terms of office for President and Vice-President will run for one year each. One at-large term will be for 3 years. The other will be for the remainder of an unfinished term through 2010.

Christopher Lee was nominated for President, and Phil Jensen was nominated for Vice-President; both currently hold those respective positions.

Christopher Byrne was nominated to retain the Executive Board seat he currently occupies, and John Kovalchik was nominated to fill a Board seat left open by the resignation of Carl Ector.

There were no other nominations, so all nominees were unopposed. Therefore, in accordance with Federation bylaws, no formal election need be held, and all nominees will take office in 2010.

---
Top Musicians Assemble for
"Listen to the Music" Free-for-All
At Cafe 210, from 2-5 pm on September 27, 2009, AFM 660 held its "Listen to the Music" event, a jam session and showcase for members and non-members. A very reasonable $3 door fee for non-union members (and no fee for union members) will cover cartage and a donation to the Olin Butt scholarship fund for high school students.


At a previous "Listen to the Music" party, musicians included (L-R), Ronnie Burrage - drums, Mike Dougherty - bass,
PSU President Graham Spanier - washboard, Chris Byrne - flute, Carl Ector - violin, and Arthur Goldstein - keyboard.

The event was open to musicians and music lovers of all ages and included internationally renowned jazz drummer Ronnie Burrage, who has played with Sony Rollins and McCoy Tyner, music educator John Kovalchik who has played in America and Europe with the Tarnished Six Dixieland band and a host of other top musicians.

AFM 660 members and musicians who came to play were admitted free while others will paid $3 at the door to support AFM 660's music education scholarship.

More "Listen to the Music" events will be scheduled in 2010.
---
Musicians to Protest Canned Music
at Texas Ballet Theater Opener
Orchestras Dumped after two Ballet Board Members got $700K
Ballet is cheating patrons out of legit show,
Kills musicians' jobs to cover losses
The Dallas-Fort Worth Professional Musicians Association, affiliated Local 72-147 of the American Federation of Musicians, represents more than 1700 professional musicians across North Texas and Southern Oklahoma, including musicians of the Dallas and Fort Worth Symphony Orchestras and The Dallas Opera Orchestra.

These musicians will protest Texas Ballet Theater's canned music policy by forming picket lines and distributing informational leaflets at the company's season opening performances, October 2, 3 and 4 in Fort Worth at Bass Performance Hall, 4th and Commerce Streets, Fort Worth, Texas. The picketing will be Friday, October 2, 2009, 6:30pm - 8:00pm, Saturday, October 3, 2009, 6:30pm - 8:00pm, and Sunday, October 4, 2009, 12:30pm - 2:00pm.

Texas Ballet Theater says it will not use its pit orchestras - the Fort Worth Symphony and Dallas Opera Orchestras - and instead will utilize "canned" pre-recorded tracks for its 2009/10 season. The Ballet company has traditionally employed the Fort Worth Symphony Orchestra to accompany its seasonal performances at Bass Hall in Fort Worth, and has used the Dallas Opera Orchestra for holiday Nutcracker performances in Dallas. The company's decision to replace live orchestra with recordings has eliminated hundreds of jobs for professional musicians and deprives audiences of a legitimate ballet performance.

"Texas Ballet Theater is cheating patrons by charging regular ticket prices with no advance notice that the orchestra pit is empty. Patrons paid for live music, but they won't get it," said Musicians' Union president Ray Hair. "Recorded music cannot replace the power, beauty and freshness of a live orchestra. With no orchestra, Texas Ballet Theater presents artificial ballet."

In June 2008, the ballet company traveled to China and paid $30,000.00 for recordings it used to displace musicians in March of this year. The company boasted that it saved between $600,000 and $700,000 by emptying its orchestra pit last season and outsourcing local musicians with recordings, some made in China.

Information obtained by the Union shows that prior to the company's fiscal collapse in August 2008, two of Texas Ballet Theater's Board of Directors were paid six-figure annual sums totaling more than $700,000.00 which went unreported in the company's IRS filings. Board members of non-profit organizations are generally expected to serve without compensation.

The Union will protest the ballet's canned music policy with informational picket lines and leaflets at all performances during the 2009/10 season.

For further information, visit www.musiciansdfw.org.
---
Central PA Musicians Association Awards
Olin Butt Scholarships to Students
The Central Pennsylvania Musicians Association presented scholarship grants to student musicians at five Centre County school districts at the recent Centre County Band and Choir Festival.

Before a packed audience in the Bellefonte High School auditorium on April 3, 2009, American Federation of Musicians Local 660 President Christopher Lee and Scholarship Chairman John Kovalchik presented each student with the Olin F. Butt Music Achievement Grant of one hundred dollars each toward their personal music instruction.



The late Olin Butt was a renowned music teacher and band leader and, as owner of the Music Mart in Bellefonte and State College, provided musical instruments and supplies to hundreds and thousands of student musicians from 1948 to 1975.

The five Centre County school district awardees were: Brandon Houtz from Bellefonte, Charlie Quick from Philipsburg-Osceola, Kyle Frost from Bald Eagle, Connor Henderson from State College and Courtney Done from Penns Valley.
---
AFM 660 President's Message for March 2009
By now you may have seen the article about AFM 660s's Sustainable Music Venue initiative that was published in the March issue of Voices Magazine or the one in the Daily Collegian on March 24.
I thought it might be enjoyable to read a few quotes from these articles to know what is being said about AFM 660 and music in central Pennsylvania:

"This is an effort for all musicians to create a better environment and community. We want this area to be a destination for audiences seeking high quality music."
"Our interest is in creating better music in general, not creating an environment of insiders and outsiders."
"It's a really thoughtful gesture in terms of being considerate of the venue owners as well. It's not a take-it-or-leave-it; it's not a traditional labor demand."
"Musicians that are worth having are worth paying." (From a bar owner)
"AFM 660's initiative makes things more fair for musicians, adding the minimum wage proposed by AFM 660 is reasonable." (From a bar owner)
"Other professionals, like your plumber, get paid at least a minimum wage. So why not professional musicians, too?"
"Central Pennsylvania is a place where you can find successful, artistic fulfillment with other musicians who are inspired, ethical and cooperative."
Kind of makes you proud to be a musician and to be part of AFM 660, doesn't it?
Thanks for all you do for music and for our community.

---
Highlights from General Membership Meeting
A General Membership Meeting and luncheon was held February 28 at South Hills School of Business. The meeting was called to order after lunch, and the he main topic of discussion was the Sustainable Music Initiative. President Chris Lee reported that in discussions with local bar owners, he found that most were very supportive on musicians, and several venues including Zeno's, Tony's Big Easy, Dante's, and Cafe 210 were eager to get involved.
It was determined that framed certificate signed by the Local 660 president be presented to venues in compliance with the initiative; the certificate could be renewed yearly. The AFM logo plus a new SMV logo will be on the certificate, and the AFM 660 website will list participating Sustainable Music Venues. Organizations such as the Central Pennsylvania Ballroom Dance Association, although they don't actually own a venue, will also be designated Sustainable Music Venues since they hire musicians at scale or above.
In other business, the membership voted 6-4 to allow musicians to showcase their work for less than scale or for free. Those opposed to the motion said that the union should never acknowledge support for it's members playing for free. (Follow-up note: International Representative Gene Tournour was contacted about this in regards to AFM bylaws. He said that showcasing is allowed when it's in support of getting work).
AFM 660 agreed to be a sponsor at Voices Of Central Pennsylvania's FunRaiser on Monday March 23, at India Pavillion. Bruce Young will also donate 2 CDs.
For copies of the complete draft minutes, go to afm660.org/documents.
---
AFM 660 President's Message for 2009
AFM 660 has identified the top unmet needs of local musicians
and is doing something about them.
There is a unanimous sentiment on the AFM 660 board to go ahead and approach local bars to get them to agree to pay all local musicians, not just union musicians, the minimum scale.
No one is going to pressure the clubs to comply nor force musicians to play only at clubs that comply. We respect bars and musicians as autonomous decision-makers for their own good.
Our approach to the clubs is this: If the club will agree to pay all musicians no less than the minimum rate listed (for a three hour gig, it ranges from $100 per person for a solo musician down to $40 per person for bands of 14 or more musicians), AFM 660 will recognize that club as a "Sustainable Music Venue" that promotes, provides and sustains quality music and musicians in the region. There will be postings and press releases listing the bars that are supportive and encouraging musicians and sympathetic audiences to patronize those clubs. The bar scene is a competitive one, and this recognition will be a competitive advantage. Some clubs will go for it and some won't. It's their choice as business people to please their audiences with higher quality, sustainable music.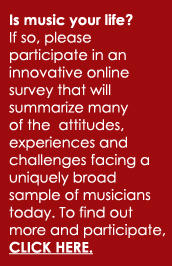 Our approach to musicians is this: You can do what you want, but we recommend that you ask clubs for at least the recommended minimum scale. It's a market-tested rate that does not harm you in the market but does help you make a living.
Parallel with this campaign will be a membership drive to unaffiliated local musicians, saying this: AFM 660 will be more effective in this campaign to help raise the minimum rate for all musicians (not just AFM 660 members) if you join us. We will also make them aware of the many benefits available only to AFM members, such as AFM contract forms with legal back-up, recognition as professionals, job referrals, insurance, information on music events, connections with other musicians and more.
Existing members of AFM 660 can do their part right away by spreading this message to any musicians in your bands who are not yet AFM 660 members. Just tell them to go to afm660.org and click on "Join AFM 660." It costs $84 per year and, in fact, we are working now on waiving the one-time initiation fee for new members (usually $75). Some musicians will prefer not to shell out $84 and others will think about all musicians joining together to make more money in the long run both individually and together and will join AFM 660 in this campaign. That's their choice as members of the local musical community.
Speak up, take the first step and you can be the change that you want to see in the local music scene.
---
"Listen to the Music" continues in December
The American Alehouse Hosts the Holiday Version
Sunday, December 28, 1:00 - 5:00 pm
Monthly Event Continues To Attract
When the local music union, AFM 660, surveyed Local musicians this year, the results were a surprise: musicians' greatest unmet need was venues where the focus is on listening to live music, and ways to communicate and network with other musicians.
American Federation of Musicians Local 660 responded swiftly, organizing a series of "Listen to the Music" events open to the public in the summer and fall of 2008. Top local musicians performed, ranging from nationwide jazz drummer Ronnie Burrage, local greats pianist Arthur Goldstein, saxophonist Chris Byrne and guitarist Tommy Wareham, to the area's top local washboardist Graham Spanier, whose daytime job is President of Penn State University.
Now AFM 660, serving nine counties in central Pennsylvania, is inviting the public to "Listen to the Music" from 1 to 5 pm on Sunday afternoon, December 28, at the American Ale House at Toftrees near State College. The smoke-free, all ages event with free snacks will feature features more of the area's top local musicians and an invitation to all musicians, union or not, to come sit in and to the public to come hear music that the performers care about passionately.
The admission fee of $10 for non-union members goes 50% to the AFM 660 Olin Butt Fund for High School Music Education and 50% to the professional musicians who are sharing their equipment and talent for the afternoon. Students are admitted for half-price, $5. The musicians will play jazz, rock, blues, folk and classical; both old favorites and brand new original music
"Listen to the Music"
At The American Alehouse & Grill (map)
821 Cricklewood Drive, State College PA, 814-237-9701
see more photos, music, and blogs at myspace/afm660
---
New Bylaws and Wage Scale for AFM 660
Members vote to accept amended bylaws and wage scale
Also retain current President, VP, and Board Members
Members of Local 660 AFM met Sunday, November 2, 2008, and approved a new set of Bylaws, a Wage Scale, and agreed to keep the president, vice-president, and two board members in their current positions.
Bylaws and Wage Scale are available for download at Documents.
A list of current officers, their terms, and contact information
is available at Officers.
---
Help Musicians Affected by Recent Hurricanes
From AFM President Thomas F. Lee:
Recent hurricanes have affected millions of people in the past month and have caused damage in the billions of dollars. Among those affected are hundreds of musicians whose lives and employment have been severely disrupted by these events.

The AFM Musicians Disaster Relief Fund is currently depleted and we are unable to provide any assistance to our brothers and sisters affected by this natural disaster. Please make a donation to this fund in whatever amount you can afford.

Contributions can be made by going to AFM Musicians Relief Fund,
or sent by mail to:
AFM
1501 Broadway, Suite 600
New York, NY 10036

Checks or money orders should be made payable to the "Musicians Disaster Relief Fund." All proceeds go to the musicians in the impacted regions.

Thank you for your assistance and your commitment to the well-being of all musicians.
---
Nov. 2 Nominations Meeting Scheduled
General Meeting will follow to discuss Proposed Bylaws and Wage Scale
At their October 3rd meeting, the Executive Board began the process for holding AFM Local 660's annual elections, and also recommended for approval to the membership revised bylaws and wage scale.
The positions of president, vice-president, and two board member seats are up for election. A Nominations Meeting will be held at 1:30 pm on November 2 at SOZO Institute Of The Arts. All Local 660 members are encouraged to attend the meeting and nominate any member in good standing for the open positions. The election will then be held in early December, with the elected officials taking office in January 2009. The president and vice-president terms run for one calendar year; the board positons are for three years each.
A General Membership meeting will be held immediately after the Nominations Meeting to vote on the recommended bylaws and recommended wage scale. Please note that these are two separate documents, and will be discussed and voted on independent of each other.
Recommended Bylaws and Wage Scale are available
for review and comment at the Bylaws page.
Documents
---
"Listen To The Music" Events
Bring Local Musicians Together
---
(State College, PA) - President George Bush has proclaimed June 2008 as Black Music Month celebrating the talents and creativity of America's African-American musicians. In line with this, a local live music celebration of Black Music Month will take place Friday, June 13, 2008 at Tony's Big Easy at 129 South Pugh Street in State College, Pennsylvania. The event, which runs from 6 to 9 pm, is free and open to all ages of the public.

Percussionist Andrew Jackson will provide his jazz and blues group and has issued an open invitation for musicians of all persuasions to come and sit in. Jackson is a former multicultural academic advisor at Penn State University, an African-American musician and past president of Local 660 of the American Federation of Musicians (AFM 660), who is sponsoring the event.

AFM 660 President Chris Lee and Treasurer Debbie Trudeau will be on hand with information about AFM 660 for local musicians interested in working together for sustainable, high quality live music in central Pennsylvania.

---

Board Meeting Produces Changes

Executive Board Leadership Roles Shuffled

At the recent Local 660 Executive Board Meeting held February 18 at 1755 Cambridge Drive, State College, the following leadership changes occurred: Chris Byrne resigned as President, but remains on the Executive Board where he feels he can be a more effective advocate for local musicians. Chris Lee stepped up from Vice-President to President; the Vice-President's position remains open.

If you or anyone you know wishes to help local musicians by becoming an officer of Local 660, please have them contact John Thompson at secretary@afm660.org.

Also, John Kovalchik resigned from the Board to spend more time with his family, students, and music. We recognize and commend John for the many years of work he put into Local 660 as President, Board Member, and MPF Coordinator. He will remain as the coordinator of the Olin Butt Scholarship Fund.

The Board is just beginning to evaluate the results of our recent survey of local musicians. These results will help us as we continue to work on revising the Bylaws and establishing a Wage Scale.

---

2008 AFM 660 General Membership Meeting

January 27 at South Hills Business School

Sunday's General Membership Meeting at South Hills Business School was nicely attended with a mix of old and new members. The atmosphere was genial and business-like as members discussed the current state of the Local, dues increases, prospective revisions of the By-Laws, establishment of a Wage Scale, and preliminary results of a survey of central Pennsylvania musicians.

Concerning the main points of business, the membership voted unanimously to increase dues for 2008. They also voted to refer further discussion and revision of the By-Laws to committee, and directed the Board to establish a new Wage Scale Committee that is not in violation of Conflict-Of-Interest rules. The members also recognized that there is an open position on the Board, but no one present would accept a nomination.

Request a complete copy of the minutes by clicking here.

---

2007 AFM 660 Election Results

Current Officers to Continue Serving

The Nominations Meeting was held as advertised on November 4 at 3:30pm at the Boal Mansion in Boalsburg, PA. The current officers were all nominated to continue in the same positions, and Bruce Young and Robert Nairn were nominated to fill two Executive Board vacancies left by recent resignations. There were no challenging nominations, so in accordance with Local 660 Bylaws, national AFM Bylaws, and National Labor Relations Board Rules, secret ballot elections were not necessary.

Chris Byrne will continue as President and Chris Lee as Vice-President, both for one-year terms. John Thompson will continue as Secretary and Debbie Trudeau as Treasurer, both for three-year terms. Rob Nairn and Bruce Young will serve three-years terms.

Seats held by John Kovalchik, Andrew Jackson, and Don Keat were not up for election this year; those officers will continue to serve.

---

~~ Sad News ~~

Hubie Haugh 1927 - 2007

Lifetime AFM 660 member Hubert H. Haugh passed away on Thursday, November 1, 2007, in State College PA. Hubie played tuba in State College High School, with The Penn State Blue Band, The Little German Band and The Bavarian Stompers, and was AFM 660's Secretary-Treasurer for most of his 31 years in the union. He made a tremendous contribution to musicians in central Pennsylvania, and he will be greatly missed.

---

The Tarnished "6" in 1970

---

John Kovalchik at his day job...

---

"Playas..."

---

Drew Menzies

---

The Friends Band Jazzes Up State College

---

Andrew Jackson Jams Las Vegas

---

2007 Olin Butt Scholarship Winners

---

Don Keat - Lifetime AFM Member